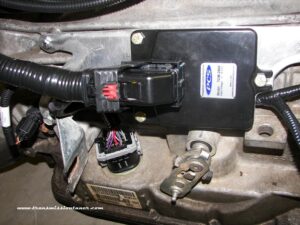 There are some things in life that are worth the wait, and the new transmission controller from Powertrain Control Solutions is that kind of thing.  A novice will get lost in all the functions it and the new software have to offer, but for a PCS dealer like me who has wanted more in an aftermarket transmission controller, I am thrilled.
Rush jobs clothed with glitz and glamour are exciting but disappoint.  However the meat in this setup has a lot to offer so that a whole new level of aftermarket control is now possible.  Just a few of the new options are adaptive shift quality functions, calculated torque, Calibration B for clutch to clutch controlled transmissions like the 5R110, and a fully sealed and compact housing with an OEM type of wire connector.
Due to the high level of capabilities this controller has, PCS has chosen to leave the calibration development for most transmissions to their dealers and for that reason it is not available directly from PCS.  The learning curve is indeed steep, and my application for it is still a bit rough around the edges, but with a few hundred miles already on my own 68RFE swap with the 2800, I am becoming the expert I need to be to sell and support this controller well, and I won't stop until I have arrived.