Allison®6-Speed Swap
Why should I consider an Allison transmission® conversion for my Dodge diesel or Fordcummins truck?
The Allison® 1000 5 and 6 speed is known for it's dependability in OEM applications, and with it's huge case it can be built stronger than any other transmission out there for the hard working contractor truck or sled puller / race truck. The challenge with a Cummins Allison 6 speed swap or installing an Allison into a Fordcummins truck in the past has been getting a good control system. It is possible to use a stand alone Allison control system, and that is what I offer, but sorting though all the myths and options that don't work so well on your own can be a real chore. If you get the wrong type of system that doesn't work right, your exciting Cummins Allison conversion gets super frustrating real quick. If you are having issues with a system you bought from someone else, join others who have already and give me call. I can help get you on the road. If you are considering an Cummins Allison swap, doing good research will help you make an informed decision. Dodge Cummins, commercial medium duty truck, or Chevy gas engines are all possible engines that can be used in front of an Allison- and I can set you up with adapter parts or point you to where you can get them.
Allison®1000 6 speed Control Systems
If you are considering purchasing an Allison®controller and doing a Cummins Allison 6 speed conversion, do your homework before you buy. Not all Allisons are ideal for a swap so read this whole page. I've talked to many out there that jumped in to a swap without much thought and made a lot of very expensive mistakes. Asking the following questions of any vendor will help you decide what and where to buy:
How is the system diagnosed where I am located if there are problems, and how can you provide support if I have issues?
Is your system tuneable via email? If so, do I have to learn to do it myself or do you provide tuning support via email?
Are any other modules needed to make your system work besides the Transmission Control Module? If so, are those modules able to be supported or modified via the internet?
What makes your system the best on the market? Do you have any customers in the process of the conversion that I can contact for a reference?
Price varies depending on application, includes 2 year limited warranty and installation support. Allison 5 speed support is also available - email or call for specific information to be sent to you.
See a video of my system in action on youtube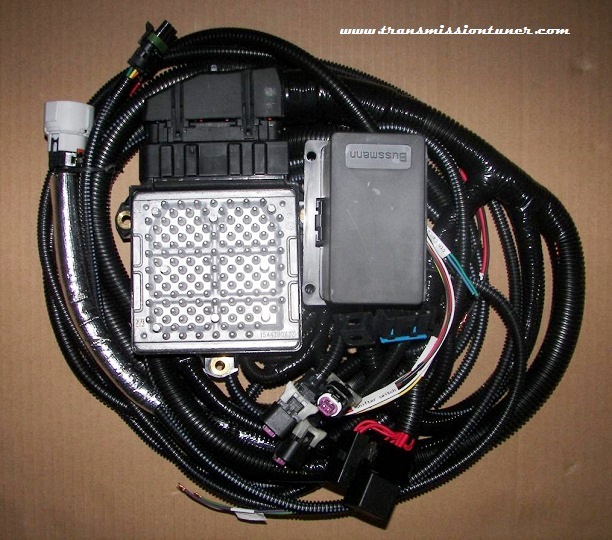 What can a control system from transmissiontuner.com offer?
Below are some reasons why the system I offer is the best on the market today:
It's Tunable:
A major key to my system's success is the tuneability of the system, which allows me to custom tune the shift points, shift quality, and torque converter lockup where they are needed, according to your specific application and use. All of the tuning can be accomplished through emails over the internet right where you live. While it is possible you may luck out with a "perfect pre-loaded tune", it is very rare - tuning is almost always needed or wanted- especially with high performance engines or hard working trailer pullers.
With my system you can still drive your truck with the system right out of the box- and yet have the next step of tuning in your back pocket. I set up the controller with a base tune that is customized for your engine, gear ratio and tire size- and we tune from there. My price for the control system includes tech support for getting it installed, and then we switch to per hour charges for the tuning. Tuning can take some time- but imagine not having the ability to modify your shift points at all, having to learn how to tune it yourself, or having to send your TCM to a vendor for changes! Blank V3 AutoCals are available from online vendors I can recommend for around $508.00, a price I cannot compete with, so rather than charge you more I send you to the best deal.
Other types of systems have been offered that have a very limited amount of end user tunablility built in, but unless you really enjoy a challenge and like learning new computer programs they will not at all be beneficial to you. I do not recommend tuning a transmission by yourself, shift quality adjustments and even shift point adjustments are more complex than you may realize. I cannot teach how to do it in a few hours - however your input on what the transmission needs to do is always welcome. If you want it to do something that is not a good idea I will tell you why and if you still want it, we can try it.
It's simpler than others out there:
Swapping an electronic controlled transmission into your vehicle is not kindergarten stuff - it can get pretty complicated if the system being installed needs supporting equipment for it to work. I work hard to keep my system as simple as it can be but there are applications that do require some supporting equipment. The trans should downshift when using cruise control, and keeping factory neutral safety, and reverse lights is often necessary for complex remote starter systems. In fact some electronic engines can send necessary signals to my system just by plugging a connector in. Read more about that here.
For non-electronic engines, no other aftermarket mystery modules, custom valve-bodies, or a bunch of sensors are required for fully automatic 6-speed operation- just the right Allison TCM with the correct program, wire harness, and a throttle position sensor. I can work with a direct tps signal range between .3 volts at idle to 4.7 volts at full throttle. If you have a 12 valve Cummins, you can use the original style Throttle Position Sensor, however a remote mount cable TPS is probably more durable - so if your 12 valve had a manual trans behind it originally, or if your Dodge tps is worn out, it is worth the extra money to buy an different TPS. Rather than rip you off on parts you can buy yourself from other vendors, I can send you to the best places to get one.
For the more complicated swaps, I offer what I call a TCR module. This module is for vehicles that need more integration, it can also be configured to merge factory servo-less cruise control systems and factory dash gear displays with the Allison control system. The best part of this module is it is also totally supportable over the internet with free software, no need to send it back to get changes made.
It has OBDII diagnostics:
You won't have to find an Allison® dealer or shop with an expensive scan tool to diagnose issues if you have them, and even though I will likely be the best go to guy, you are not limited to getting diagnostic help from me either if you have a problem on the road. The AutoCal has exceptional diagnostic abilities when used with a laptop computer- including reading diagnostic codes, and dynamic testing such as fast learn and manual gear command. If you have problems that aren't easy to solve you can do a data log and get me involved with whatever issue you are facing. If you go on a trip and happen to leave your AutoCal at home, any OBDII code reader or scan tool should connect to the system.
Bottom Line Is Good Value:
Even though the Allison swap is by far the most expensive transmission conversion out there, I can offer a system with good value- one that works with very competent tech and tuning support start to finish. There might be cheaper ways to do it using junk yard parts that you can get working kind of ok, and there are certainly more expensive ways to do it that may not work too well either- so again, do your homework and ask good questions. Even my basic harness and calibration/tuning are built to accomodate neutral safety, reverse lights, tow/haul, a check trans light, hot trans temp indicator, and more. Harnesses are built to order so take advantage of that and submit mock up models or measurements. Consider what I normally include below and then ask me for more specific information.
New TCM Control module with a limited two year warranty that is custom tune-able.
A premium, factory quality transmission harness is custom built for you with the TPS wire connector of your choice. The basic harness includes relay trigger wires for the following: reverse lights, neutral safety, check trans indicator, hot trans indicator, 6th cancel for 6 speed transmissions, tow/haul, and a key on power relay so you don't overload factory circuits. For a reasonable cost, I can also offer additional options - indicator lights, integration of a OEM momentary button to select the tow/haul feature, extra fused circuits and relays for accessories or for reverse lights and neutral safety, even relays, wiring, and connector for a 12 valve Cummins shut down solenoid. I can provide 90 right, left, or straight TCM harness connectors, and offer optional fuse/relay box options if desired. Since I custom build the harness I help you plan a well fitting harness by offering TCM mounting location and routing suggestions, and do ask that customers provide me with measurements for the build. Those that don't want to take the time to do this are welcome to go to my competitors.
A base calibration that is tailored to your gear ratio, tire size and engine. A moderate tow/haul shift schedule is included. Initial adjustments to match up the calibration to your gear ratio and tire size are included as well, if it is a gear ratio and tire size combo that I don't already have a good base calibration for.
Full installation and troubleshooting support that is specific to your vehicle is included in the purchase price, I even provide supplemental instructions for most trucks to help you wire up your own existing momentary tow/haul or cancel overdrive switch to activate tow/haul and the exhaust brake function if you opt out of my relay/fuse box option and want to purchase your own relays.
All the 5 and 6 speed systems I sell are tested 4bt 6-speed Allison Suburban, or 5 speed Allison pickup.
Custom Tuning is not included in the purchase price but is offered seperately at the hourly rate of $50.00/hr. Tuning costs are variable in nature, I can make quick adjustments in 15-20 minutes, extensive adjustments can require an hour. Applications with high performance engines, or extreme tow tunes require more time and I can't cut corners. I may be able to get your trans tuned in an hour or less, but expect to spend $350.00 or more if you want extra specialized or additional calibrations. I try to surprise you with less, but prepare you for more, that's the way I sell things.

Being kind to your trans is my highest priority. Shift quality should be good - no binds or flares, before the transmission can make lock to lock shifts without potentially causing damage to your trans or sending you to the chiropractor - so base calibrations are generally not set up to lock the converter in any gear lower than 6th. This gives the TCM a chance to adapt well, and after the shift quality is good, lockup can be enabled in lower gears.
See my transmission swap comparisons page to see how the Allison® swap stacks up compared to other transmission swaps in regard to overall cost and value in gear ratios and dependability.
I only offer the stand alone, Medium Duty Allison system- however I can also support the GM 8.1 6-speed system for a stand alone application. There are a lot of myths and bad information about both systems- so here is some solid info on both:
8.1 GM System
Custom tune-able, but shift quality adjustments are more limited than the medium duty system. Diagnostics, including data logging must be done with a laptop.

Limited to 69% throttle for shift and lockup point tables due to the manufactured PWM torque input provided by a Cat TPS (throttle position sensor) or other alternatives I provide.

Simple shift point calculation- will shift at the same throttle vs. mph regardless of the load. This makes the 8.1 system easier to tune but not as "smart" when it comes to pulling loads.

Requires Chevy body control module for tow/haul

Tap-shift, and check trans indicator works without BCM. No hot trans indicator.

4 low function works with speed sensor in the tail shaft of the transfer case.
Medium Duty
New TCMs are currently available with a 2 year limited warranty.

Precise shift quality tuning with "smart" calculations that are dependent on tps, mph, and rpm. This modifies the shift point tables and shift quality depending on real load. This "intelligence" is all in the TCM and in the tuning- it has nothing to do with anything in the actual transmission.

4 Low works fine but the output shaft speed sensor must be installed in the extension housing of the transmission, or I can offer a special wiring option that uses a speed signal adjuster for transfer cases that already have a speed sensor in the transfer case.

Tow/haul, 6th cancel, check trans indicator, hot trans indicator, PTO, and exhaust brake functions are enabled and possible without any other module.

All medium duty TCMs are not the same, and must be programmed with the correct calibration and desired optional features to be able to use one just like I offer in a stand alone arrangement. Sorry, I will not tell you what tcm or calibration I use, and even if I did most Allison dealers will not program a TCM for you anyway without answers to a bunch of dumb questions. Even if you could get one programmed, you could end up lost on how to tune it yourself. I do not tutor customers on tuning- it's just too complicated, and you won't want to pay for what it's worth. For these reasons I ask my customers to either rest easy and let me do the tuning or learn it on your own the hard way if you are determined to do it yourself. I am always open to customer input, on how and when the trans should shift so don't feel left out of the whole process if you choose to purchase my tuning support.
What other information do I need to know?
For a 6-speed conversion, a 2006 Chevy Allison or a medium duty 1000-2550 series Allison with an input speed sensor is recommended. '07-'09 Chevy Allisons require adding the input speed sensor in, and there are several ways to do that. See more information on the Forums.
2010 and newer Allisons have a variable pressure control solenoid that requires a separate control module that uses boost, throttle position, throttle rate and more to deliver tunable line pressure in the transmission. This adds significant cost and complexity to the system, and for these reasons and more I don't typically recommend using these "late model" transmissions - however they probably are more fuel efficient and potentially could be better for high performance builds over 750 hp since higher line pressure can be reached without restricting cooler flow. Simply put, DO NOT buy one of these until after you have more information from me.
Tuning requires a Windows based computer and an email- and full diagnostic capabilities requires a Windows based laptop computer. Transfer case options for 4 wheel drive trucks are limited, but no expensive adapters are required, even for low range operation. Contact me for further details, I have vehicle specific information that I email to potential customers, and any further questions are welcome. Although the TCMs I offer are made for Allison® Transmission Inc., this particular application is not endorsed, authorized, nor is it warranted by Allison Transmission® Inc.
Introducing Harness Kits!
For the DIY crew out there, I am offering harness kits with all new wire, terminals, connectors and instructions to build your own harness when you purchase a TCM. I've done this a few times already and it seems to work out well for guys that can read and understand instructions well and are not in a big rush. Choose wisely however! For many, building your own harness is not the best choice. Prices start at $650 for the harness kit and TCM. The price includes a half hour of phone or email support for building the harness, additional support costs $50/hr. and I track that time strict - so if you have a hard time with instructions or wiring work, do yourself a big favor and order a custom built harness ready to install, since you may end up spending a lot more building your own than you might realize.

Understand that I reserve the right to refuse to sell this option or anything I offer to anyone for whatever reason I decide that is best. Also you will have to ask for this option, it's one of the rewards guys get for reading to the bottom of this page :).